I am Amélie, a woman on a spiritual journey of self-discovery….
I have a deep call to work to bring more Light to our planet and help people feel better and reach their goals by reconnecting to their hearts and their Higher Self – their Souls.
My name is Amélie Thévenet. When I was a teenager, a dear friend of my parents used to call me "Tévie", a nickname made from my family name. I started using it and then it became a new identity… "Amélie Tévie" is now the name I operate under as a healer!
I was born and bred in France and have lived in London in the UK since 2007. I am a blessed mother of 3 lovely daughters and in love with a wonderful husband.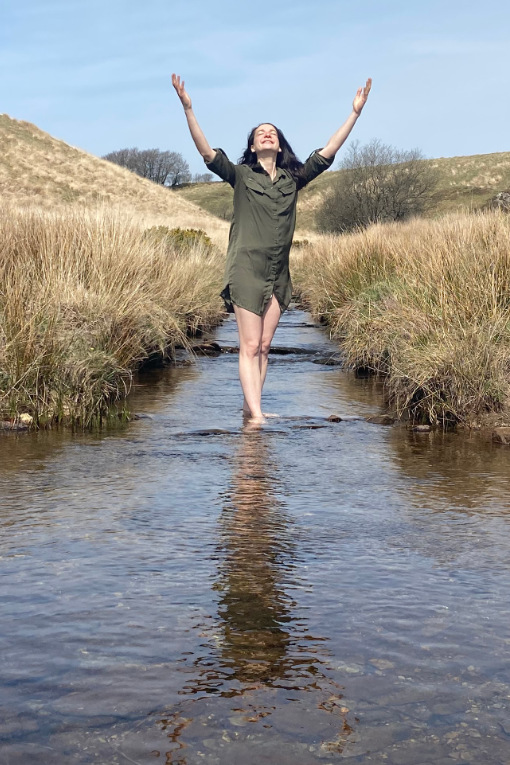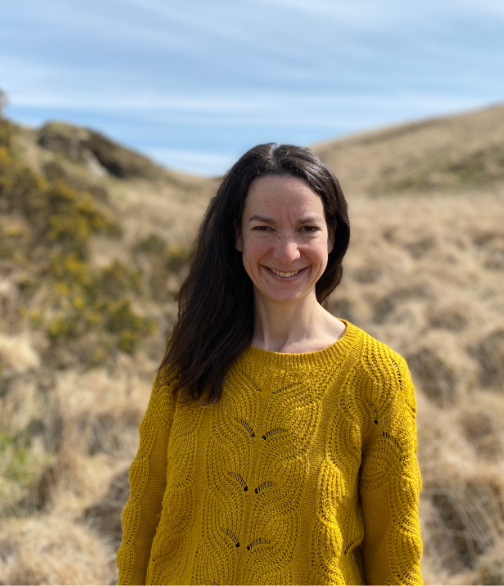 I believe that we are all Divine Beings…… that we are all able to do so much more than we have always been told. I am called to bring more LIGHT to spaces and souls on our beautiful Earth.
I believe that each of us does our own healing. I am just a messenger of Light and Energy. You are doing your own healing, I am guiding you in your journey, and bringing in the right energies for you, but YOU are the one healing yourself.
I also believe that behind every disease or body ache there is an emotional root, and that our body is giving us signs to lead us towards healing….towards getting closer to our Soul.
I am also passionate about bringing women back to themselves, their inner power, their cyclical nature, their beautiful bodies, their amazing abilities and intuition….
I worked for 13 years in finance in a high level job, which I enjoyed a lot. I used to travel loads, especially in India and Asia.
Since my first trip to India at the age of 20, I fell in love with that country and it was great to keep a connection through work and my travels there.
With each of my daughters came a wake-up call….As if I was birthing a new version of myself at the same time…. In 2014 when I became pregnant, I started paying attention to my body, what I put on and in my body, my surroundings, the environment…. I also started doing yoga. In 2017 with the birth of my second daughter who had some allergy issues, I started exploring beyond western medicine who had no answer and discovered the energetic world….
That's when I started using tapping (Emotional Freedom Technique), meditation and explored a few healing practices… In 2019, the birth of my younger daughter kick-started my spiritual journey…. My view of the world changed – and is still evolving everyday… I started using the Bach flowers during my pregnancy, and explored more deeply my connection to the Divine and my Soul.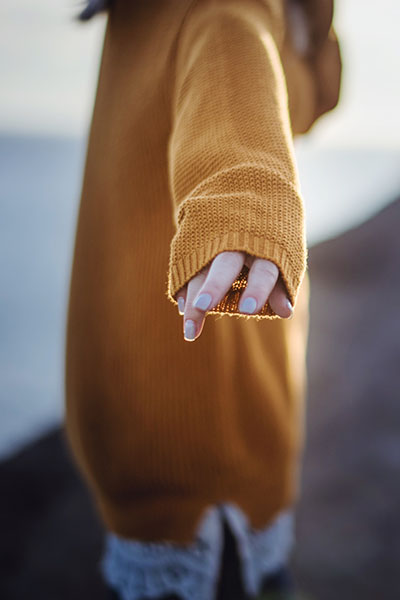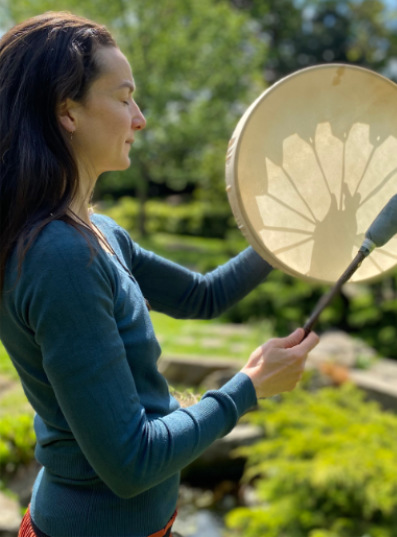 I realised that I needed to be fully aligned with my vision of the world. My job in finance wasn't fulfilling any more. Life brought an end to it and I started a journey of self-discovering, doing a lot of shadow work and I started channelling.
I was called to birth my first shamanic drum….
I discovered I have powerful visualisations when I connect in a psychic way to places or people. I enjoy (!) sending trapped dead souls to the Light…. I trained to perform space clearing, and became a Bach Foundation Registered Practitioner. All the energy healing I do is intuitive.
I learnt the basis of a few shamanic techniques and I am usually guided during my practices. I am still exploring, discovering and experimenting with joy everyday…. Life is joyful and everything is possible….
Working Together
The way I work is to welcome you as you are, holding a safe and sacred space for you in all my practices. You are a divine-human being, and able to heal yourself and unleash your inner power. I am here to support you in this process, to put you in touch with your Higher Self and reconnect you with your life purpose.
I am looking forward to meeting you!